You've deleted everything you can think of and still Android says it has "insufficient storage available". We explain how to delete cached files and free up space on Android.
So If you've deleted all the files you don't need and you're still receiving the "insufficient storage available" error message, you need to clear out Android's cache.
On most Android phones this is as simple as opening the Settings menu, browsing to the Storage menu, tapping on Cached data and selecting OK to the pop-up when it prompts you to clear cached data.
You can also manually clear the app cache for individual apps by going to Settings, Apps, selecting an app and choosing Clear Cache.
(If you are running Android Marshmallow or later, go to Settings, Apps, select an app, tap Storage and then choose Clear Cache.)
IF IT DOSN'T WORK THEN TRY BELOW STEPS.
Open the Settings app, tap Apps, Applications, or Applications Manager option. (Applications Manager might be an option after either Apps or Applications.)
Scroll sideways to the Downloaded section. You'll see a list of all apps and how much storage space they're taking.
Tap the Menu or More button and choose Sort By Size to arrange the apps by which take the most storage.
Tap an app to see how much storage it is taking, both for the app and its data (the Storage section) and for its cache (the Cache section).
Tap Clear Cache to remove its cache and free up that space. You could also tap Clear data, but that removes your files, which is probably a bad idea.
Repeat for each app.
In some devices, there's a faster way to clear all the apps' cache in one fell swoop:
Open the Settings app, tap Storage (it should be in the System tab or section). You'll see how much storage is used, with details for cached data broken out.
Tap Cached Data. In the confirmation form that appears, tap Delete to free up that cache for working space, or tap Cancel to leave the cache alone.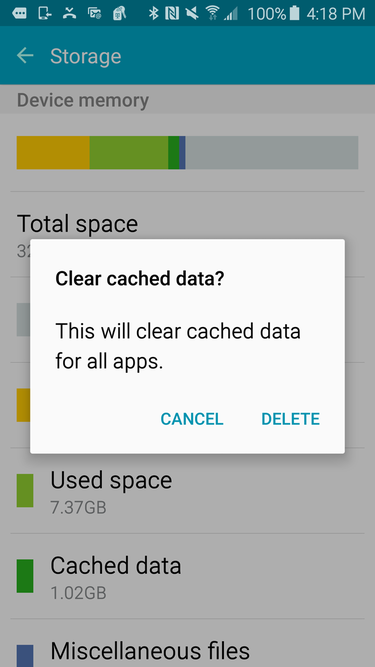 Be warned that clearing the cache may not do the trick in all cases. Android devices that use external storage (SD cards, basically) often have much less usable storage than is reported. That's because many system resources and some apps must be installed on the device's built-in core storage, not on a removable storage medium.
There are security and stability reasons for this requirement, but they've varied from one Android version to the next, and in some versions, app makers get to decide the rules for what can be stored where. As a result, Android devices with removable storage may need to have apps and data removed to make room for updates and new apps — not only the cache.
But what taketh also can giveth: If an app can be removed from internal storage to external storage, do so to free up the internal storage for use as a working space for your app installation. If an app can be moved to external storage, you'll see the Move to SD Card button in the Applications Manager for that app.
Most Android devices that support external storage usually have too little internal storage (to get to a cheaper price). Thus, you may not be able to install what you think you have room for, even after cleaning up the internal space. Next time, get a device with at least 32GB of internal storage.
Leave a comment